Ship under keel clearance
Ship under-keel clearance in shallow water
A one-day course for ship pilots, harbourmasters and others interested in ship under-keel clearance. All courses are offered subject to minimum student numbers. (Please encourage your friends and colleagues to enrol).
Australia has some of the most demanding shipping channels in the world in terms of under-keel clearance management. Long-period swell, strong currents, rapidly-changing tides and rapidly-shoaling channels combine with more frequent deep-draft transits, to make under-keel clearance a major issue for ship pilots and harbourmasters. However, due to the complexity of under-keel clearance management in our region, we also have some of the world's leading researchers in this field. The aim of this one-day course is to share the knowledge that has been gained over the past decade through full-scale squat measurements, model testing and computational advancements.
* Please note: the course will only be run subject to minimum number of attendees.
Sponsored by: Centre for Marine Science and Technology, Curtin University; and The Australian Maritime College (AMC).
Course program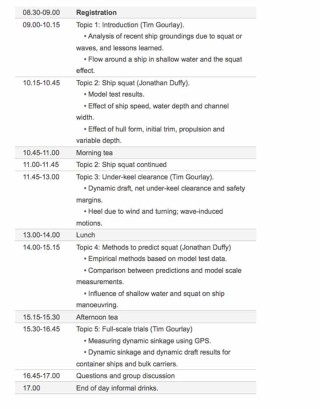 About the presenters

Dr Tim Gourlay is a researcher in ship hydrodynamics at the Centre for Marine Science and Technology, at Curtin University in Perth. He completed his Ph.D. in ship squat at Adelaide University in 2000, before taking up a role as ship hydrodynamics lecturer and researcher at the Australian Maritime College in Tasmania. This work included several model testing programs on ship squat and wave-induced motions. In 2002, Tim moved to Curtin University and has since continued his research on ship squat and under-keel clearance, publishing numerous papers in this area. He has also run and analysed some of the largest sets of full-scale ship squat trials yet performed internationally, including trials on 16 deep-draft containerships in Hong Kong in 2005, and 11 bulk carriers, tankers and containerships through Torres Strait in 2008. He has helped to investigate grounding incidents due to ship squat, and has produced the technical calculations for the "KeelClear" under-keel clearance software.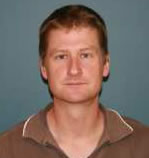 Dr Jonathan Duffy completed his Ph.D. in ship squat and ship-bank interaction at the Australian Maritime College in 2008. He has worked in his current role as a Research Engineer/Lecturer at the Australian Maritime College since 2001. During his time at the Australian Maritime College, he has conducted numerous consultancy and research projects in ship hydrodynamics, involving model scale experiments and numerical predictions. This work has included developing squat prediction models for use in real-time ship-handling simulators, as well as simulation of ship manoeuvring and ship-bank interaction in shallow water.