Sonar imaging
The Centre has expertise in the following areas:
Seabed habitat mapping
Seafloor bathymetry and composition mapping
Biomass mapping
Fisheries surveys
Environmental monitoring of dredge plumes and gas seeps
Internal waves
Detecting marine megafauna, including sharks
Seabed habitat mapping
Sonar is now widely recognised as a reliable and efficient means for mapping the seabed. It is also being increasingly used as the tool of choice for habitat mapping. Habitat mapping is important for establishing baseline data and subsequently identifying changes that occur in seabed habitats. Such changes may be due to human activity or climate change, or they can be part of naturally occurring variations.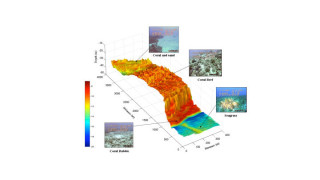 The use of video plays a valuable support role for ground truthing sonar data. However, as a stand alone mapping tool it is limited to relatively shallow and clear water. Sonar systems can be used for habitat mapping in water depths from 1m to more than a kilometre, in both clear or turbid waters. It is particularly useful when large areas of the seafloor need to be mapped and classified with respect to benthic habitats.
New processing techniques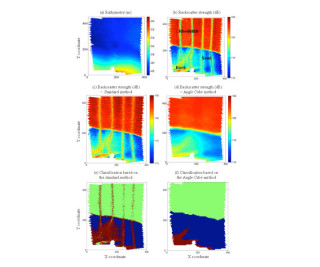 The Centre for Marine Science and Technology (CMST) at Curtin University has developed new acoustic methods for rapid, large-scale assessment of habitats in estuaries and over the continental shelf. Complex data sets of the seafloor have been successfully processed for Ningaloo Reef, Sydney Harbour, four sites in Queensland, the Recherche Archipelago, Marmion Marine Park, Cockburn Sound and the Swan River, which includes multi- and single-beam bathymetry and backscatter mapping, sidescan imaging of the seafloor, and habitat maps of high resolution.
The traditional method of processing multibeam data removes the mean angular trend, leaving residuals that remain beam/angle dependent. The CMST Angle Cube method does not remove trends; rather, it interpolates values collected at all angles. This significantly improves visualisation of seafloor backscatter and resulting habitat classification maps produced in an automated way.
Sample results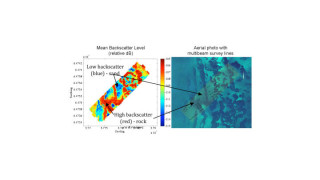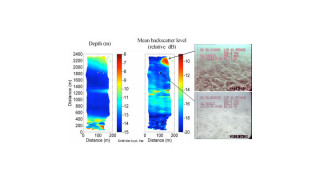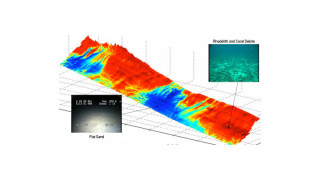 Liquid Robotics
Chevron
Australian Institute of Marine Science