CMST History
History of the Centre for Marine Science and Technology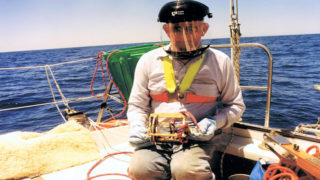 CMST originated with a fire and a group of staff at the then Western Australian Institute of Technology (WAIT). In the 1970s, staff members from Physics, Biology, Chemistry, Geology and Electrical Engineering formed a Marine Studies Group which carried out some small projects and ran a first year elective unit in marine science.
The fire was important because just before it took place, John Penrose of Physics was working with John de Laeter, then Physics Head, on a project in mass spectrometry. One evening, the Mass Spec lab was gutted in a fire that put it out of action for two years.  John set about building an ultrasonic diver communicator during this period, reflecting a long interest in sub-sea activities. This project in turn led to a substantial focus on marine acoustics.  Shortly after John led a group of six WAIT staff and students in an expedition to the site of the 17th century wreck of the Batavia in the Abrolhos Islands, beginning a long period of engagement with the Western Australia Maritime Museum.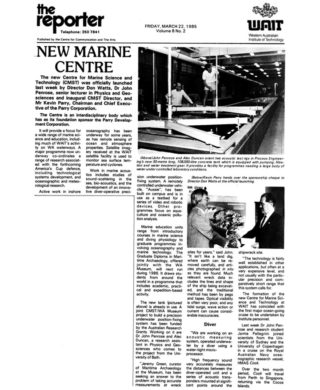 The mid 1980s saw a dramatic escalation of marine activity in Physics in particular. Kevin Parry, of the then Parry Corporation, and the then WAIT Director Don Watts, approached John Penrose with a proposal to create a Centre for Marine Science and Technology. This was formed in 1985 and was charged, in the first instance, with supporting the then defence of the America's Cup and a triple circumnavigation of the world to be undertaken by noted yachtsman Jon Sanders. Parry Corp provided five graduate scholarships of which one was taken up by Kim Klaka. Kim went on to become Director of CMST for many years and brought teaching and research in naval architecture to CMST. Jon Sanders succeeded in his triple, solo, non-stop circumnavigation during which, amongst other achievements, he made echo sounder records of a seamount in the South Pacific, predicted from satellite altimeter plots. His vessel, Parry Endeavour, is on display in the Fremantle Maritime Museum.
Kim led a bid by CMST to form a core partnership in the Australian Maritime Engineering Cooperative Research Centre (AMECRC), which for a six-year period involved CMST in collaborative research with institutions in three other Australian states. Later, CMST formed part of the Coastal CRC, to use its short form name. This too involved centres in other states. CMST was particularly involved in acoustic assessment of seabed characteristics. Rob McCauley brought a strong program of bioacoustics to CMST, a focus which has continued to expand now for some years.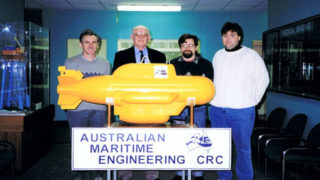 The arrival of Christine Erbe as our latest Director has brought many new contacts, both for projects and graduate students, to the Centre. Christine is leading CMST at a time of great change within Curtin University and CMST is enmeshed with many of the changes emerging. Over the years, staff and students have been the brains of the Centre and it is difficult to name all who have contributed!
In addition to those who have already been noted, Alec Duncan and Andrew Woods merit special mention, as do Chandra Salgado-Kent, Sasha Gavilov, Iain Parnum, Miles Parsons, Tim Gourlay, Mal Perry, Ann Smith and others. My own impression is that CMST has been an outstanding enterprise to be part of, in terms of scientific productivity, project excitement and fellowship.
— Emeritus Professor John Penrose AO, founder of CMST.