Fisheries acoustics
CMST specialises in fisheries acoustics, using both passive acoustic listening and active acoustic sonar surveying for monitoring and management.
CMST has expertise in the following areas:
Passive acoustic monitoring of fish choruses
Active acoustic mapping of biomass
Target classification
Behavioural monitoring (e.g. avoidance)
Developing use of imaging sonars/acoustic cameras
Over recent decades, active acoustics (sonar and echosounders) has become one of the standard monitoring tools in fisheries management. It provides a non-extractive sampling tool that can be operated manually or remotely from scientific surveys, commercial vessels or stationary positions. Acoustic energy reflected back to the sonar by biota in the water column provides valuable information on the number, position and type of targets. Changes in abundance and distribution of fish can be identified over various timescales and behavioural patterns in fish movement can be monitored.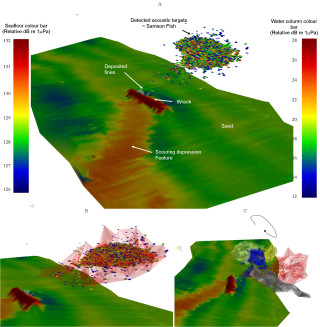 At short ranges, imaging sonar (acoustic cameras) can record valuable information in circumstances where other sampling methods may be inhibited, such as the limitations of range in dark, deep or turbid waters.  The resolution of these high-frequency sonars is such that not only can the fish be detected, but their swimming patterns observed as well.

Fish produce sound for a number of reasons, many of them associated with important life functions, such as spawning. Passive acoustic monitoring of fish choruses can help delineate areas of essential fish habitat, provide a relative estimate of the number of callers present and, over long periods, tease out patterns in behaviours associated with calling.