Marine ecology
The Centre has expertise in the following areas:
Marine mammal science
Effect of anthropogenic sound on fish
Acoustic techniques to study fish aggregations
Marine mammal science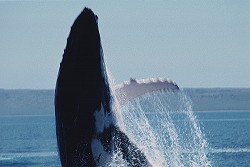 Our research focuses on the distribution, abundance, and dynamics of marine mammals occurring along the coasts of Australia. We conduct marine mammal focused research (including impact assessments) and investigate the nature of changes in aspects such as ecology, behaviour, and vocalization from three broad groups of marine mammals: pinnipeds (seals and sea lions), dolphins, and whales, in order to understand the causes for these changes.
CMST solves ecological and environmental problems through a technical and multidisciplinary based approach using a team of scientists and engineers with expertise across a range of disciplines (biology, physics, statistics, engineering, and computer science).  The collaborative nature of CMST has made possible the acquisition of long term behavioural and ecological data sets collected at key sites through a multitude of techniques and platforms. As a result, many of our projects are aimed at solving significant and broad scoping problems, having significant implications internationally.