3D video multiplexer
The '3DMUX' allows the creation of field-sequential 3D video from a pair of genlocked video cameras. Field-sequential 3D Video is the defacto standard for the recording of stereoscopic 3D information using the PAL and NTSC video standards.
The 3D Video signal created using this device can be used for any of the following purposes:
(a) record onto video tape or DVD,
(b) 3D viewing using an appropriate 3D display or HMD (head mounted display),
(c) Stereoscopic 3D projection using the 'S-Video Demultiplexer'.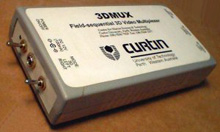 Specifications
Features
Multiplexing of Video from 2 Genlocked Video Cameras
Creation of Field-sequential 3D Video
Compatible with both PAL and NTSC Composite Video
Field operable using internal 9V battery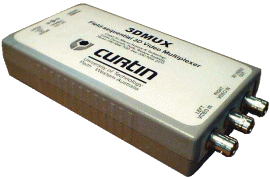 User controls
Power On/Off
3D Mode select switch: 3D, 2D left, 2D right
Video Termination (internal)
Power On indicator LED
Connectors
Input
2 x BNC ('Video Input Left' and 'Video Input Right') (Composite Video)
1 x DC Power Jack (12V DC)
Output
1 x BNC (Field-sequential 3D Composite Video)
External power supply
A small external plugpack providing 12V 100mA DC can be used instead of the internal 9V battery.
Dimensions
Depth 175 mm (6.9 inch) (Including connector & switch protrusions)
Width 80 mm (3.2 inch)
Height 35 mm (1.4 inch)
Weight 200g (7 oz) (without battery)
The '3DMUX' can be purchased separately or as part of a complete system.
'3DMUX' manual
Available for free download (PDF 271kB)